If you'd like to rip Spotify to MP3 (320kbps high quality) to play it on your MP3 players offline, well, You are in the right place.
Free Sound Recorder is a Spotify recorder that runs on Windows and does not support Mac. Free Sound Recorder captures any sound from a computer sound card, such as streaming audio broadcasts, online meetings, and even extract audio files from YouTube.
This post will show you the best 10 Spotify ripper software programs that help you rip mp3 from Spotify with few clicks.
What is the Spotify ripper?
Mp3 had a long history, but it is still popular. We can play it on any media player and phone.
Spotify ripper is a tool that rips high-quality MP3 music from Spotify on your computer and phone. If you have tried to download Spotify tracks with some online Spotify converting sites, you will find out none of them is working. Why? Because Spotify has updated its encryption techniques for music files. Each song file splits into a few OGG format segments, so it is tough to find these segments to form a complete song.
In a nutshell, Downloading tracks from the Spotify server directly is impossible.
Here I will introduce the top 10 Spotify ripping tools using the recording technology to get Spotify to local MP3 files with 1:1 output.
No.1 Cinch Audio Recorder (The best one)
Cinch audio recorder is a neat and useful tool for Streaming music recording. It records Spotify tracks as mp3 with ID3 tags (artist, title, and album) from any online music site like Spotify, Amazon Primary music, and Apple music so that you could enjoy Spotify music on any MP3 player offline.
How to use Cinch audio recorder to rip MP3 from Spotify
Step 1: Download Cinch from the download button below. After you download it on your computer, double click the installation file to install it by following the installing wizard.
Step 2: Launch Cinch, and click the recording button in the upper-left of Cinch's interface. The software is now ready to record music from Spotify. The default output format is MP3 format. You could also select .wav format as an output format.
Step 3: Playing a Spotify song or playlist, which you want to rip to mp3.
That's it. The moving graph on the upper center indicates the Cinch is recording. You could quickly find the MP3 files by clicking the folder icon in the Main Cinch interface's lower-right.
You might wonder why the Cinch is the best one. What's the difference between this one and other Spotify ripping tools?
Let's check out the great features of Cinch
1. Save music from any streaming music
This is a primary function being a "Spotify to MP3 converter", which can rip Spotify to high-quality mp3 without a Spotify premium account. It supported any streaming music like Soundcloud, Apple Music, Google Music with just one click.
2. 100% accuracy of the ID3 tagger
The ID3 tags (artist, title, and album) are important for MP3 files. The Cinch ID3 tagger is so great. I guess no one can beat it.
The ID3 tagger is not only for Spotify tacks but also for your local music. If you have a lot of mp3 music with no ID3 tags on your computer, you could get ID3 tags for those music files automatically with the Cinch audio recorder.
3. Silent recording
This recorder adapted CAC Technology, which directly records the music from the core audio. What's this mean? It means you don't have to turn the volume to the maximum during the recording process to get the maximum volume for recorded songs. This new technology allows you to record Spotify music (with muted sound) in the library.
4. Spotify ADs removal
If you play Spotify songs with a free account, you will hear the short Spotify ads that start after playing a song. When you record a Spotify playlist, the ADs will record, too. This tool will remove those annoying ads automatically.
Note: Spotify has compressed audio down to a bitrate of 160 kbps for a free account on the desktop. Paid subscribers also have a "high quality" bitrate option of 320 kbps audio on desktop.
No. 2 Leawo Music Recorder (Spotify ripper for Mac)
Leawo music recorder is a desktop application for recording Spotify tracks with original sound quality, whether it is a Spotify premium or a free user. Leawo is the only desktop recording program has both Windows and Mac version. And it is only a Spotify recorder with a Mac version. Don't miss it if you only have a Mac computer.
Download Leawo Spotify recorder as below:
Check the great features of Leawo:
It will start recording and split the MP3 tracks
Get ID3 tags (titles, albums, and artist) for recorded mp3 tacks
There are 2 output formats: mp3 Audio(*.mp3) and wav Audio(*.wav).
AD remover
It allows burning mp3 tracks to CDs easily
Free Spotify Recorder For Windows
No.3 Audials Tunebite 2020 Premium
The program is a high-quality Spotify recorder. It will rip online music like Spotify songs in MP3, WMA, or AAC format. This works with Spotify and many other streaming platforms like Deezer, Amazon, Napster, and Apple Music.
Want faster-ripping speed? This great software can rip music from Spotify at a double rate. That's powerful recording software. But that's not all. Here's the best part – the program downloads music from Spotify, adds ID3 tags (song title, artist, album, etc.), cover art, and song lyrics to your files (with desired file name).
Audio Output Formats
AAC
AIFF
AU
CAF
FLAC
M4A
MP3
WAV
WMA
WMA Pro
No.4 Replay Music
Replay Music is an easy-to-use Spotify music converter that rips Spotify songs to MP3 format without a Spotify premium account. Another critical feature is the naming and sorting of files automatically. It costs around $15USD to get a full license.
No.5 Ondesoft Spotify Converter
Ondesoft Spotify Converter is a professional Spotify music converter for Mac and Windows users. It rips high-quality mp3 tracks from Spotify with a faster speed when compared to recording music from Spotify. All converted mp3 keep full ID3 tags like title, album cover, artist.
How to rip Spotify with Ondesoft Spotify Converter?
Dragging and dropping a song, albums, or playlists from Spotify to the Ondesoft's interface to import Spotify songs. You could add songs by copy-and-paste a Spotify playlist URL into the search bar.
It will search songs by using the titles of your playlist on YouTube or Deezer
Click the "Convert" button. It will start to rip songs from Spotify to mp3 on your local computer.
No.6 Spytify 1.4 (Free)
Spytify is a Spotify music to mp3 converter. It only rips music from the Spotify desktop app. It only has a Windows version at the moment. The best advantage of Spytify is a free open source program.
How to record songs from Spotify with Spytify? It's easy to record a Spotify playlist with Spytify. Please follow the step by step below:
Download, install Spytify on your Windows PC.
Launch the Spytify and your Spotify desktop application (If you haven't installed the app on your computer, you could download it here)
Click the recording button in the upper-right on Spytify and select MP3 as output format.
Playing a song or playlist on Spotify
You could find recorded mp3 in the path: …/My Music/, which is the Windows default music folder.
No. 7 iMusic
iMusic is a comprehensive Spotify playlist to MP3 converter from Wondershare company. It allows you to search, manage, record, and convert songs and albums. You could rip Spotify music to MP3 and other popular audio formats like M4A, WebM, OGG, etc.
Record Spotify Mp3
No. 8 Audacity
Audacity is free multi-track audio editing and recording software for Windows, Mac OS X, GNU/Linux. It's may not intuitive as other Spotify recorder software, but you can follow the video guide below to learn how to use Audacity to record Spotify music and save as mp3. Recording music for personal use is legal, but it will against Spotify copyright 2019.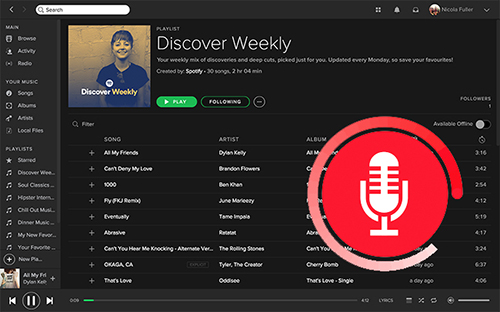 No. 9 Fildo Spotify ripper for Android
Looking for a Spotify ripper for Android phones? Fildo is the best Spotify ripping app for Android users, and it's for free. Fildo claimed that they would get iOS soon, but right now, we can only download the Android apk file from the official site.
How to use Fildo to rip Spotify music?
Step 1: Download Fildo Spotify to MP3 converter for Android APK here (Only available on the official site)
Step 2: Install on your Android phone and launch it.
Step 3: Go to the "More" tab on the bottom and choose "IMPORT SPOTIFY. " Log in your own Spotify account.
Step 4: Once you have imported the playlist, open it, and all songs will show up. Tap the 3 dots icon on the right of a song chooses "Download" to save the song to the local phone.
After the download is finished, you can find all the ripped songs saved in the folder called "FildoDownloads".
No. 10

Spotify ripper for iPhone
Since we have Fildo for Android users, what we got for iPhone users? Well, you don't need to install any app on the iPhone to rip Spotify. You could rip Spotify song with Siri shortcuts without a Spotify premium account. Please checked the YouTube video to show you how to download Spotify with Siri shortcuts.
Summary
I have pushed all the best Spotify ripper programs in front of you. They work great for Spotify free and premium accounts. Now it is your turn. Choose your favorite Spotify music converter and start to rip music from Spotify.